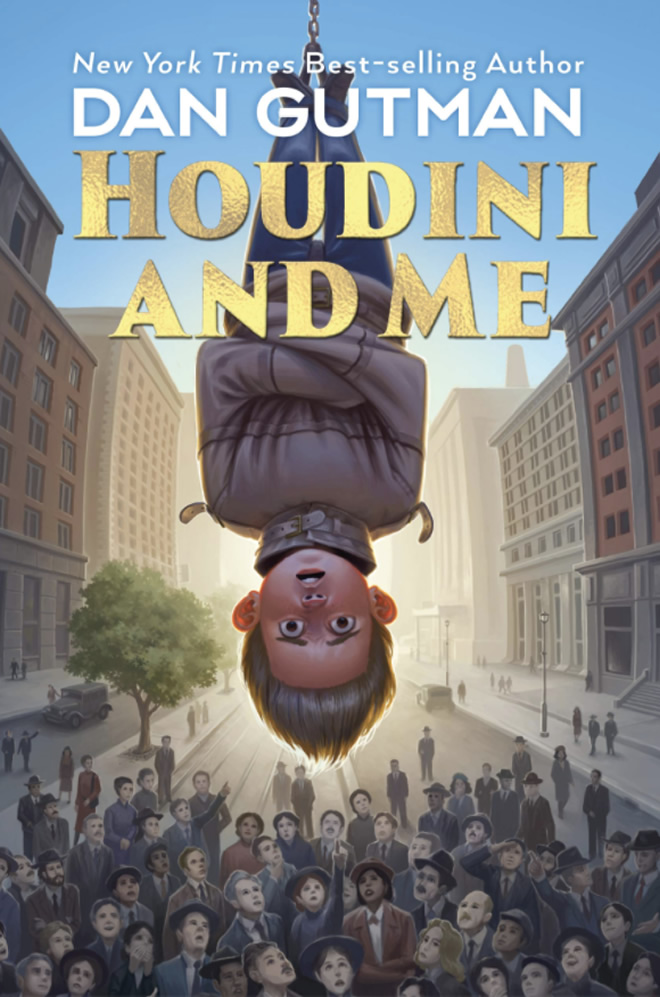 Houdini and Me (Holiday House, 2021)
A boy grows up in Harry Houdini's old house in New York City. Things get weird when he gets a cell phone and discovers that the mysterious person texting him is Houdini (who died in 1926) himself.
---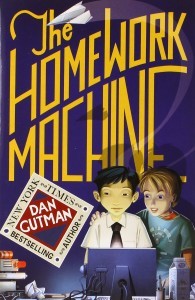 The Homework Machine (Simon & Schuster, 2006)
Oh, you're gonna love this. A genius kid creates a machine that does your homework for you automatically. You just slip your homework in and seconds later it pops out the other side, finished, perfect, and it's even in your handwriting. Need I say more?
---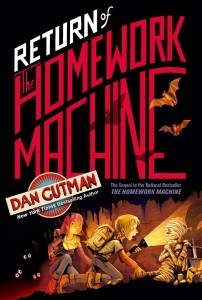 Return of the Homework Machine (Simon & Schuster, 2009)
Remember that little blinking red light on The Homework Machine? Well, the police never recovered it. So Brenton, Judy, Sam, and Kelsey need to find it before it falls into the wrong hands. And this time, somebody's going to die!
---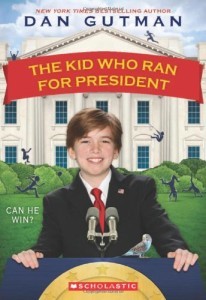 The Kid Who Ran For President (Scholastic, 1996)
Before the 1996 presidential election, there was quite a bit of debate about whether Bob Dole might be too old to be President. That got me thinking – what would be too YOUNG to be President? And that's what gave me the idea for this novel about a 12-year-old boy who runs for President. This was the first time I tried to write something funny. It is my most successful book.
---
The Kid Who Became President (Scholastic, 1999)
Sequel to "The Kid Who Ran For President". Judson Moon, now 13 years old, decides to accept the presidency after all. This novel covers his first year in office.
---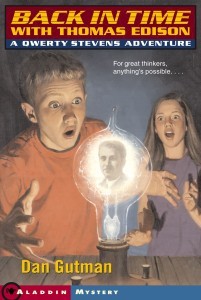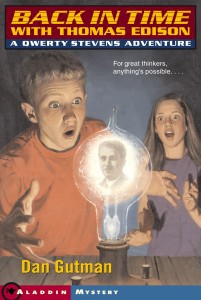 Back in Time with Thomas Edison (Simon & Schuster, 2001)
I grew up a few miles from Thomas Edison's old laboratory in West Orange, New Jersey. It is a museum today. I've always admired and been intrigued by the great inventor. Edison patented over a thousand inventions in his life. I started thinking: What if he had created a secret invention that was so revolutionary that he didn't feel the world was ready for it? What if he buried it in his backyard and never told anyone about it? And what if some kid was digging in his garden and found this incredible machine 120 years later?
---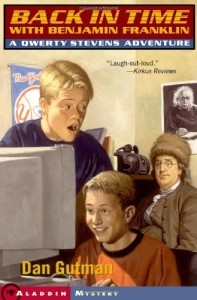 Back in Time with Benjamin Franklin (Simon & Schuster, 2002)
The sequel to Back in Time with Thomas Edison. With the help of The Anytime Anywhere Machine, Qwerty and his friend do a "time suck" to bring Benjamin Franklin to the present day. Then they accompany him on a trip to Philadelphia on July 4th, 1776, where the increasingly insane Ashley Quadrel attempts to steal the Declaration of Independence and stop the American Revolution.
---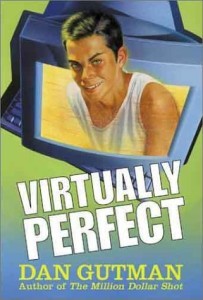 Virtually Perfect (Hyperion, 1998)
I was supposed to write a non-fiction book about special effects in the movies, but the book fell through. Rather than waste the months I had spent on research, I invented this story about a son of a special effects wizard who creates a "vactor" – or virtual actor – on a computer. The boy gives the vactor so much intelligence that it figures out how to come through the screen to exist in the real world like a regular kid. This is one of my favorite books.
---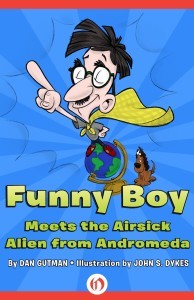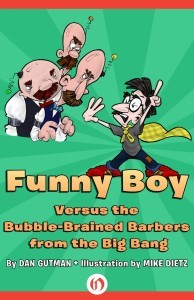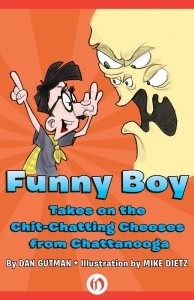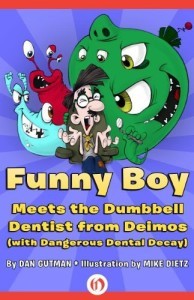 ---
Funny Boy series (Open Road, 2013)
Back in 1999, I wrote this three-book series about a young superhero who has no super powers but uses his sense of humor to defeat bad guys. They're in alphabetical order: Funny Boy Meets the Airsick Alien from Andromeda, Funny Boy Versus the Bubble Brained Barbers from the Big Bang, and Funny Boy Meets the Chit-Chatting Cheese from Chattanooga. The books didn't sell in 1999, but they have been revived as e-books by Open Road Media. I have added a fourth book: Funny Boy Meets the Dumbbell Dentist From Deimos. The plan is to take the series all the way to Z (Funny Boy Meets the Zany Zamboni Driver from another Zip Code). Funny Boy is the silliest thing I ever wrote, and people tend to love it or hate it. You may purchase the Funny Boy series through OPEN ROAD MEDIA.
---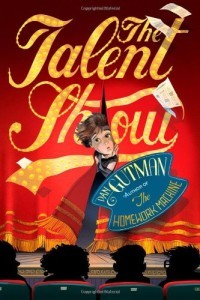 The Talent Show (Simon & Schuster, 2010)
A rock and roller. A ballerina. A comedian. A rapper. A singer. Which one will win the Cape Bluff Elementary School talent show? Or maybe it will be the kid you least expect.
---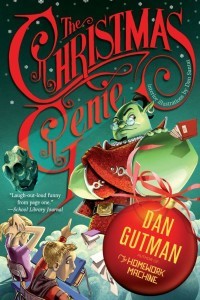 The Christmas Genie (Simon & Schuster, 2009)
What would happen if a meteorite crashed through your classroom window…and a genie popped out…and he granted the class just one wish? What would you wish for?
Bank Street Book's 2010 Best Children's Books of the Year
---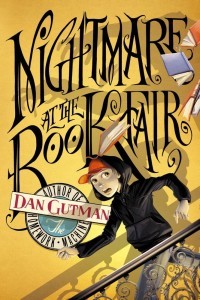 Nightmare at the Book Fair (Simon & Schuster, 2008)
After getting bonked in the head at his school book fair, Trip Dinkleman is knocked into a hypnotic dream state, where he is trapped for the rest of the book. Each chapter finds him inside a different kind of children's book: horror, science fiction, fantasy, adventure, historical fiction, easy reader, sports, animal and even girls' fiction. Very strange and different!
---
Getting Air (Simon & Schuster, 2007)
My son Sam used to be obsessed with skateboarding, and he inspired this story about some skaters who survive a plane crash and have to use their survival skills in the wilderness. The book was also inspired by one of my favorite books for kids, Gary Paulsen's Hatchet.
---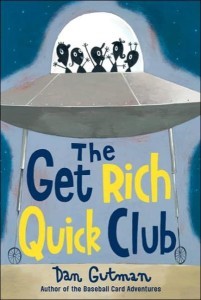 The Get Rich Quick Club (HarperCollins, 2004)
A group of five kids decide to devote their summer to making a fortune. They decide to create a fake photograph of a UFO and sell it to the tabloids. One thing leads to another and…oh, you'll have to read it for yourself to find out what happens.
---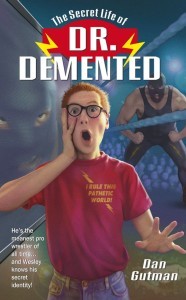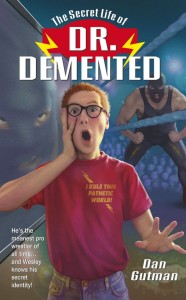 The Secret Life of Dr. Demented (Pocket Books, 2001)
Okay, I admit it. I LIKE professional wrestling. I like the way we all know it's staged, but nobody cares. I thought: What if a kid lived down the block from a professional wrestler? What if the wrestler was a real lunatic in the ring, but a regular, puppy dog, suburban guy the rest of the time? What might happen?
---
You can purchase books through: