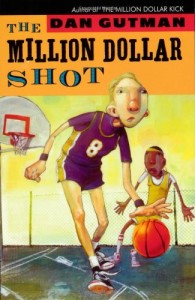 The Million Dollar Shot (Hyperion, 1997)
You know those basketball contests where they give a fan the chance to sink a three point shot or half court shot and win money? That gave me the idea for this novel, about a boy who wins a poetry contest and gets the chance to take a foul shot in the middle of the NBA finals and win a million dollars. To make it real, I consulted with Dr. Tom Amberry, who sank 2,750 foul shots without a miss. Many kids have told me this is my best book.
---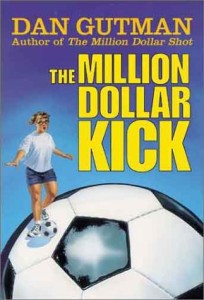 The Million Dollar Kick (Hyperion, 2001)
This soccer story is my first book in which the main character is a GIRL. When The Million Dollar Shot came out, my editor Donna Bray suggested I write a sequel. But I thought that using the same characters for ANOTHER million dollar shot (or field goal, or kick, or strike, or whatever) would make a lame sequel. And I hate lame sequels. Then Donna tossed out the idea of starting from scratch and making up a story with all NEW characters. Aha! A world of possibilities opened up.
---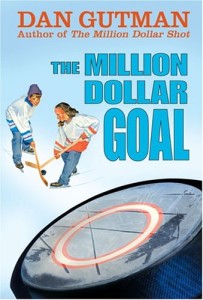 The Million Dollar Goal (Hyperion, 2003)
This is the third book in my "million dollar" series. This time the sport is hockey. Two main characters tell the story–a twin brother and sister. They're Canadian, and their foul-mouthed, flatulent, Elvis-loving grandmother plays a big part in the story.
---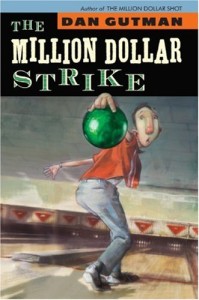 The Million Dollar Strike (Hyperion, 2004)
The fourth book in the million dollar series. No, it's NOT baseball. It's about one of my favorite sports–bowling! One ball, one roll, with a million dollars on the line. For all you kids who have been asking, this is the first bowling horror novel.
---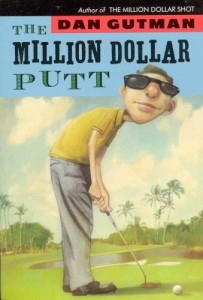 The Million Dollar Putt (Hyperion, 2006)
I was surfing the net one night and Googled "blind" and "golf" for some reason. It turns out there are thousands of blind golfers all over the world. Some of them were right in my backyard, at The Overbrook School for the Blind in Philadelphia. I even got to play golf with them. So I concocted this wacky story about a blind kid who takes up golf and the eccentric girl next door who becomes his coach and friend.
---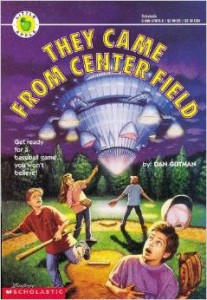 They Came From Centerfield (Scholastic, 1995)
Before 1995, I was a non-fiction writer and never thought I would be capable of creating a story. But I decided to give fiction a try, and this is my first effort. I wanted to do something like Matt Christopher, but wackier. So I had aliens visit Earth and threaten to destroy our planet unless a group of kids taught them how to play baseball. I never thought this book was very good, but third grade kids just love it.
---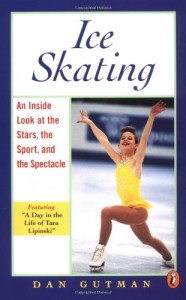 Ice Skating (Viking Children's Books, 1995)
Figure skating suddenly became a huge sport after the attack on Nancy Kerrigan on January 6, 1994. I saw that there were hardly any books on the subject, so I decided to write one.Ice Skating I was also interested in writing a book that might appeal more to girls than to boys. This is an everything-you-always-wanted-to-know kind of book about the sport. I got to interview Tara Lipinski, who was a nobody at the time but went on to become Olympic Champion.
---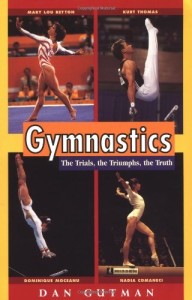 Gymnastics (Viking Children's Books, 1996)
After I completed Ice Skating, my editor, Elizabeth Law, suggested I write a similar book about gymnastics. I got to interview Amanda Borden, one of America's "Magnificent 7."
---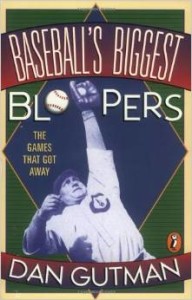 Baseball's Biggest Bloopers (Viking Children's Books, 1993)
The 12 most dramatic mistakes made in baseball history — the first in 1908 and the last in 1991. This was my first children's book.
---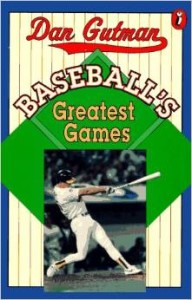 Baseball's Greatest Games (Viking Children's Books, 1994)
The nine greatest games in baseball history, described in play-by-play. It would have been ten, but I was told the book was too long. This is my best non-fiction baseball book for kids, I think.
---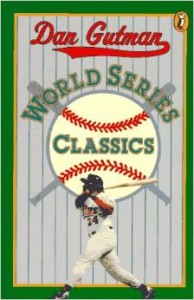 World Series Classics (Viking Children's Books, 1994)
The five greatest World Series' ever played (1912, 1924, 1947, 1975, and 1991) described in play-by-play as if you were sitting in a box seat watching. I wasn't that happy with the book because I felt it was too much to ask the reader to sit through seven baseball games, even if they were exciting games.
---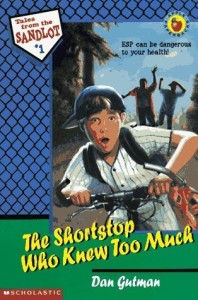 The Shortstop Who Knew Too Much Tales From The Sandlot Series (Scholastic, 1997)
I was sick in bed one day, and sketched out the plot for a novel about a kid who gets hit in the head with a baseball and wakes up to discover he has ESP. It became The Shortstop Who Knew Too Much. That was followed by three more Little League stories in which weird, paranormal things occur. I'm proud of this series, but it was not successful and has been discontinued; you can still purchase these books through Amazon.com.
The Green Monster in Left Field
The Catcher Who Shocked the World
The Pitcher Who Went Out of His Mind
---
You can purchase books through: