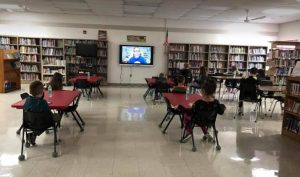 My virtual author visits are fun, like my Facebook Live Read-A-Louds from last summer, but also educational.
I think I should start with the money stuff, because you might take one look at how much I charge and say, "WHAT?! Is he out of his mind?" I will do a minimum of one and a maximum of four 30-minute online sessions with a school, all in one day. The cost:
1 session=$500.
2 sessions=$1,000.
3 sessions=$1,500.
4 sessions=$2,000.
If you're still with me, let's talk about the content of those sessions. Every school is different, of course, and I realize I need to be flexible. Depending on the grade level and the school's preference, each session could consist of…
A brief introduction about how I was a reluctant reader as a child.
For grades 2 and 3, I'll explain how I got the idea for My Weird School, and how I write the books.
For grades 4-6, I'll discuss whichever one of my books or series your students are most familiar with (My Weird School/The Genius Files/Baseball card adventures/Flashback Four etc).
For everybody, I'll read a chapter of a book that hasn't been published yet.
For everybody, I show the students how they can write a story on their own in 9 simple steps.
For everybody, I'll talk about my rejection letters to tell the kids they should NEVER GIVE UP.
For everybody, I finish up with Q and A.
My preference is for small groups (one class or one grade at a time), but I'll speak with larger groups if necessary. Obviously, with larger groups there's less opportunity for interaction with individual students.
My ideal grade levels are 2-5. I don't feel that grades K or 1 would get much out of my virtual author visit.
I request that you prepare the students for my visit in advance by sharing a book or two with them and/or researching my books online.
My preference is to use Zoom, but I'm open to other platforms if your school can help me through any technical issues. I'm not very tech savvy.
If you'd be interested in purchasing books in conjunction with my visit, I recommend contacting Allyson Hickey of booked @allyson@bookedauthors.com or call 914-351-3401. She makes the whole process easy.
–If you like what you've seen here and want to book a date, we can save some back and forth if you include this in your email to me: the name of your school, the address, your position, a phone number where I can reach you in case of emergency, and a few months that would be best for a virtual author visit to your school.
That's about it. Questions? Give me a holler: dangut444@gmail.com.