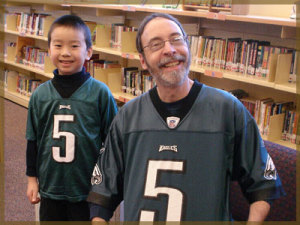 Q: How do you pronounce your name?
A: Gut as in "cut." Not as in "boot."
Q: When you were a kid, what did you want to be when you grew up?
A: A photographer.
Q: So how did you become an author?
A: After I finished college, I didn't know what career path to take. I wasn't very good at photography. I always enjoyed writing letters to people, and I felt that my writing was just as good as the writing I saw in newspapers, magazines, and books.
Q: How long have you been writing?
A: Since 1978. But my first book wasn't published until 1985. I didn't start writing children's books until 1993.
Q: Who are your favorite authors?
A: Roald Dahl, Robert Cormier, Jack Gantos, Peg Kehret, Gary Paulsen, Carl Hiassen, Andrew Clements, Kurt Vonnegut Jr., Gordon Korman, Roland Smith, Anthony Horowitz, Stephen King and lots of others. But to be perfectly honest, the only thing I read, every day, from cover to cover, is The New York Times.
Q: Which of YOUR books is your favorite?
A: Johnny Hangtime. And Race For the Sky is a close second.
Q: Why do you like sports so much?
A: Because it's the only kind of entertainment where nobody knows the outcome in advance. When we watch TV or go to the movies, we can usually figure out what's going to happen long before it does – who will live, who will die, who will win, and who will lose. In sports, ANYTHING can happen. I'm attracted to the drama of that.
Q: Why do you write about baseball more than any other sport?
A: Most other sports look the same to me. Football, hockey, soccer, basketball – they all have one team trying to march down a field and score a goal on the other team. Baseball is different, more strategic, with an infinite number of possibilities at any point. It reminds me of chess. And it's easy to write about baseball because there's plenty of time when the players are standing around trying to figure out what to do next. And by the way, the baseball card adventure series is over. The 12th book, "Willie & Me," (2015) is the last book in the series.
Q: Why don't you write a baseball card adventure about Joe DiMaggio? Hank Aaron? Cy Young? Derek Jeter? Ty Cobb? Lou Gehrig? And so on. And so on. And so on.
A: I don't pick the players I write about because they were great players, or nice people, or because they are famous names. I pick them because I can BUILD AN INTERESTING STORY AROUND THEM.
Q: Why don't you write about football, tennis, swimming, karate (and every other sport)?
A: I hope to! I haven't gotten around to those sports yet. After I wrote Baseball's Greatest Games, I suggested to my editor that we do Football's Greatest Games. She said, "We don't want to do that book, because football fans don't read." True story.
Q: Why don't you write a book in which the main character is a girl?
A: I did! It is a soccer book called The Million Dollar Kick. Girls should also check out The Million Dollar Goal, Mickey & Me, The Talent Show, The Christmas Genie, The Genius Files, The Homework Machine and Flashback Four.
Q: Do you have a pen name?
A: Yes. My pen is named Herb.
Q: Do you ever work on two books at the same time?
A: Yes, I write one with my left hand and another with my right. Just kidding. Actually, I am usually working on two projects. I'll devote the morning to one and the afternoon to the other. This is perfect for me, because I have a very short attention span!
Q: How long does it take to write a book?
A: The My Weird School books only take about a month or so to write. But I might spend as much as a year on my books for older kids because they require more research.
Q: How do you manage to write so many books so quickly?
A: I use the word "the" a lot.
Q: Are you writing a book right now?
A: No. Right now I'm writing this sentence. And now I'm writing another sentence. There, I finished it. And now I'm writing another sentence. At this rate, I'll never write another book.
Q: Do you prefer writing adult books or children's books?
A: Children's books. Kids are a much more appreciative audience. None of my adult books have been very successful, and I don't write for adults anymore.
Q: Do you write on an empty stomach?
A: No, I prefer writing on paper.
Q: Joke, right?
A: Right. I write my books on a computer, an Apple MacBook.
Q: Do you ever get writer's block?
A: Uh…I can't think of an answer. No, really. When I'm stuck, I find the best thing to do is break the rhythm. Take a rest. Have a bite to eat. Take a bike ride. Make some phone calls. Check my email.
Q: What advice would you give to somebody who wants to be a writer?
A: Start at the bottom and work your way up. Try to write something for a children's magazine or your local newspaper. If you get it published, send the clipping with some article ideas to a regular magazine. Finally, after you've established yourself, try to write a book if you have a great idea for one. For more suggestions, click on Tips for Young Authors, and read my book My Weird Writing Tips.
Q: If I wrote a book would you publish it?
A: Sorry, no. I'm not a publisher. I have a tough enough time getting my OWN books published!
Q: How do you cope with rejection letters?
A: The first hundred or so really made me angry. After a while I got so used to rejections that I stopped taking them personally. I still get rejections today. My attitude is, if a publisher doesn't like my work, it's THEIR loss. I visit lots of schools. I talk with thousands of kids. I have a good handle on what kids want to read or don't want to read.
Q: What's the best part about being a writer?
A: The freedom. I don't have a boss. I can work when I want, where I want, and on whatever projects I want. I don't have to drive to an office, because I work at home. I don't have to wear a jacket or tie.
Q: What's the worst part about being a writer?
A: The waiting. Waiting for publishers to accept or reject a manuscript. Waiting for my books to come out. Waiting for the reviews to come in. Waiting to see how a book sells. Waiting to get paid.
Q: Where do you live?
A: New York City. You wanna make something of it?
Q: Do you have children?
A: Yes. Sam was born in 1990 and Emma was born in 1995.
Q: Do your kids ever give you ideas for books?
A: Emma inspired the My Weird School series, and Sam, well, he inspired my whole career as a children's book author.
Q: What do you do in your spare time?
A: What spare time!? Between my work and my family I have very little free time. But I like to ride my bike, go to the movies, travel, listen to music, play my guitar, things like that.
Q: Are you famous?
A: Some people know of me because of my books, but they don't recognize me when I walk down the street or anything.
Q: Are you rich?
A: I wish. Most people don't realize that authors earn as little as six CENTS for every book that is sold. You have to sell LOTS of books to get rich. Most of us are lucky to keep doing what we do without having to get another job.
Q: Do you have another job?
A: No.
Q: How can I help you get rich and famous?
A: Tell your friends and relatives around the country about my books.
Q: What is your goal as an author?
A: To inspire reluctant readers to love reading.
Q: When are you going to stop writing books?
A: When kids don't want to read them anymore. I have no plans to ever retire. I really like working.
Q: Who are your personal heroes?
A: Creative people who grew and changed over time. The Beatles, James Cameron, Thomas Edison, Picasso, Stephen Spielberg. Also, people who do good things for the world and get no credit for it: firefighters, the police, teachers, social workers, librarians.
Q: Do you ever have breakfast in your pajamas?
A: No. I put it on a plate.
Q: Did you enjoy interviewing yourself?
A: Yes!